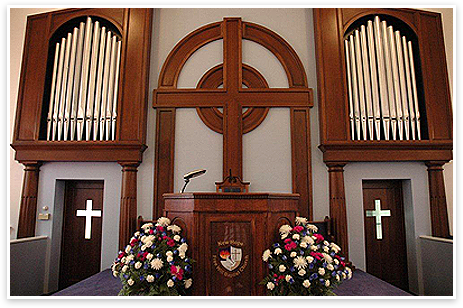 Worship and Christian Education
Sunday Worship Services
Sunday Morning Praise and Worship - 10:50AM
Baptism and Holy Communion (1st Sunday) 10:30AM
The Lord's Supper & Footwashing (Semi-Annually) 3:30PM
Christian Education
Sunday School (Sunday) 9:30AM
New Member Orientation ( Sunday) 9:30AM
Bible Class ( Tuesday) 7:15PM
Bible Class( Wednesday) 12:00N
Bible Class ( Thursday) 6:30PM
Prayer Services
One Hour Corporate Prayer (Every Tuesday) 6:00-7:00PM
Intercessory Prayer (2nd and 4th Thursday) 6:30-7:30PM
Praise the Lord
"Come to Me, all you who labor and are heavy laden, and I will give you rest. Take My yoke upon you and learn from Me, for I am gentle and lowly in heart, and you will find rest for your souls. For My yoke is easy and My burden is light." (Matthew 11:28-30 NKJV)
Welcome to the New Hope Free Will Baptist Church Website! We are a faith-based, Bible believing, family-oriented church that focuses on establishing a personal relationship with Jesus Christ. We are a growing congregation that presents many opportunities for all ages to worship, study, learn and grow with us as Christian disciples. We invite you to visit and fellowship with us so that we may help you meet your spiritual, physical, and emotional needs, while experiencing the love of God that is in Christ Jesus Our Lord!
Pastor's Sermons/Blogs
Onward and Upward
Our Church Theme for 2013 is "Pressing on the Upward Way!" Philippians 3:14 (NKJV) "I press toward the goal for the prize of the upward call of God in Christ Jesus." We are now on the "otherside" of 2012! Time is moving us onward, yet it is up to us to move "Upward." The Word of God says that we have been called with a "heavenly calling" (Hebrews 3:1), and our desire must be to move in the direction for which God has called us in Christ Jesus. In the text (Philippians 3:13-15), the steps to "Pressing on the Upward Way" are revealed.